2022 Survey: Adult attitudes towards children
In 2016, the Valuing Children Initiative commissioned our benchmark survey examining adult attitudes towards children. We did this because it's our view that attitudes and the culture of a society are pivotal to children's wellbeing. However, this important part of the picture is frequently missing from discussions.
In 2022, we are repeating- and extending- our original survey. The research, led by The University of Western Australia's Dr Stephan Lund, will help determine if attitudes to children have shifted and to assess the impact our work has had in the last five years.
The research will help the Valuing Children Initiative, and others, to identify key adult attitudes that may be barriers to better outcomes for Australian children. This important research is a crucial precursor to meaningful, systemic change.
The research has been approved by The University of Western Australia's Human Ethics Committee (Approval number 2021/ET000818). Participation is voluntary and completely anonymous. Full details are included on the opening information page of the survey.
We want to hear from you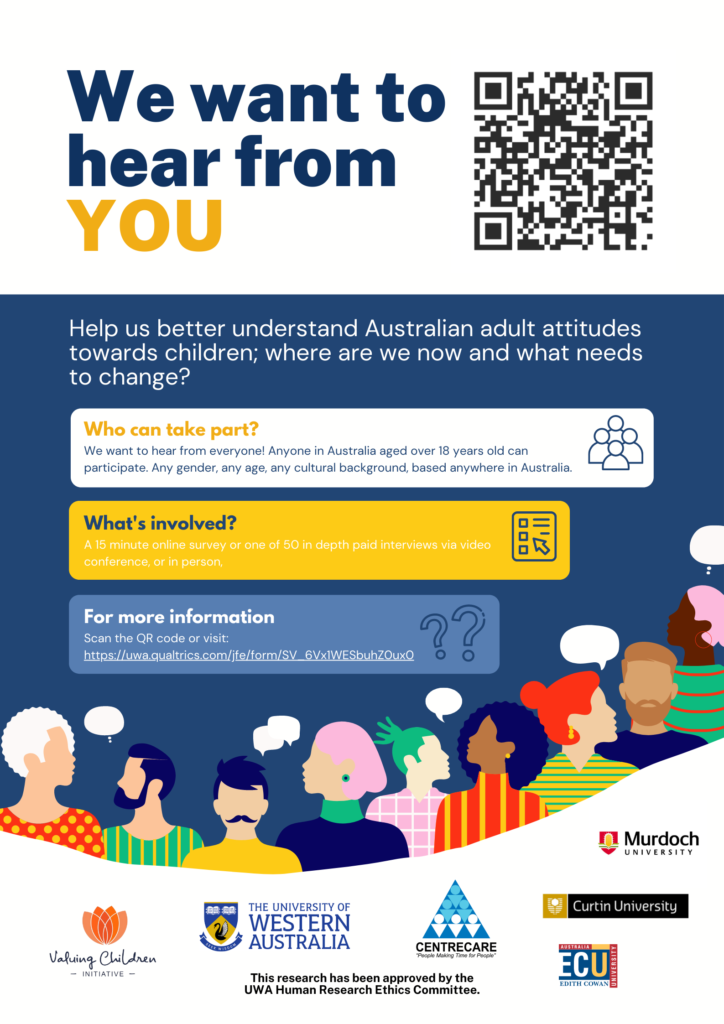 Help us better understand Australian adult attitudes towards children; where are we now and what needs to change?
What's involved? A 15 minute online survey or one of 50 in depth paid interviews via video conference, or in person.
Who can take part? Anyone in Australia aged over 18 years old can participate. Any gender, any age, any cultural background, based anywhere in Australia.
Attitudes to children, how we value them, individually and as a section of society, directly impacts the priority we give to their needs and rights. This in turn impacts how children are treated. Attitudes also inform policies, programs, and resources that directly and indirectly effect children.
Australia is a wealthy country with the capacity to ensure that all children are given the supports and opportunities they need to flourish. However, outcomes for Australian children are poor across multiple domains and when compared to other OECD countries, Australia is in the bottom 20 per cent.
It is essential that we understand adult attitudes towards children so that individual and societal reflection and change can occur.
We appreciate your time and in-put and we look forward to sharing our findings when our survey results are published.
Research team
This research project is undertaken by the Valuing Children Initiative (VCI) and a group of researchers from the University of Western Australia, Curtin University, Edith Cowan University and Murdoch University.
Dr Stephan Lund is an experienced social work practitioner who has worked in the children, youth and family fields for over 20 years. He is a Senior Lecturer and Acting Deputy Head of Social Work and Social Policy in the School of Allied Health at The University of Western Australia. Dr Lund is the Chief Investigator for this research project.

Dr Madeleine Dobson is a Senior Lecturer at Curtin University in the School of Education, with a research focus on early childhood education & care, children's rights, and advocating for a strong image of children. Her recent research projects have focused on the conceptualisation of children and the contemporary image of the child, caring pedagogies in education, and trauma-informed schooling. Dr Dobson has collaborated with VCI previously to complete 'A Child's Voice', a research project exploring children's perspectives and how valued they feel.


Dr Ruth Wallace is an academic researcher and lecturer at Edith Cowan University, School of Medical & Health Sciences. She lectures in Public Health and is the Course Coordinator – K97 Health Science. Her research interests include early childhood nutrition and health literacy. Dr Wallace is a Registered Public Health Nutritionist.
Dr Catherine Archer is a Senior Lecturer at Murdoch University's College of Arts, Business, Law and Social Sciences. Her research interests include the impact of social media and other digital communication on families. Dr Archer's current research interests include social media, particularly related to families, health, influencers and ethics.
Madeleine McLeod is the Development Executive at the Valuing Children Initiative and a qualified social worker with more than 20 years' experience. Her commitment to social justice is evident across her career with significant prior experience in direct service provision to vulnerable children, adults and families in the out-of-home care and justice sectors as well as senior roles in not-for-profit organisations.