Every child is valuable, so why do we accept child poverty in Australia?
The existence of child poverty in Australia is undeniable, but would you be shocked to hear that three quarters of a million Australian children live in poverty?
For children growing up in poverty, it is not unreasonable for them to expect adults to recognise the urgency of their situation and take immediate action. They would be justified in believing that they are valued enough to move the hearts and minds of those who have the power and means to effect change.
Every month and every year of their poverty results in severe and longstanding consequences.
How many children are living in poverty in Australia?
Too often kids growing up in poverty go to bed or school hungry; they can feel left out if they can't afford to join a local sport team or go on school camps; they may be living in an overcrowded home where there's no quiet place to do homework and they worry about their parents.
774,000 children or 1 in 6 Australian children aged 0-14 years lived in poverty in 2017-18
Around 200,000 Australian children are living in severe poverty.
The percentage of children living in poverty (17.7%) is higher than the percentage of any other age group – including those aged 65 years and over.
Despite these harrowing figures and their well-known negative impact, there is relatively little community concern or collaborative government action to reduce child poverty.
How does poverty hurt children?
The negative impact of poverty on a child's development and life outcomes is significant and well documented.
The result of experiences, largely created by poverty, can have tragic, long term outcomes for many children who often face an adult life of poor educational achievement, unemployment, homelessness and other personal problems.
In other words, children who experience long term disadvantage (4 years) are likely to be affected for life.
Outcomes:
Negative impact on brain development
Developmental delays by the age of 2
Lower levels of school readiness and social and cognitive abilities
Negative effects on mental health, development of motor skills, sense of security and the associated development of anxiety
Greater likelihood of out of home care
Children are the victims of their poverty, not the perpetrators
Discussions on child poverty generally focus on its negative impact and how its costs can be minimised, rarely do they consider the ethical and moral dimension of the issue.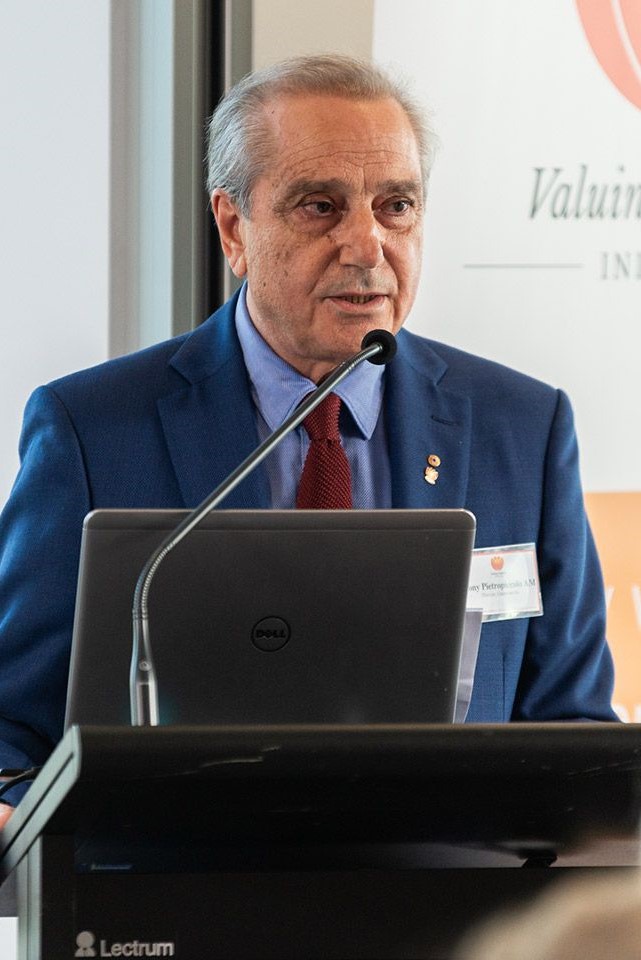 Adjunct Professor Tony Pietropiccolo AM
Co-Founder, Valuing Children Initiative
Poverty is not an intractable problem. It can be solved. The Coronavirus Supplement in 2020-21 changed the lives of many families — if for only a short period of time (ceased, March 2021). Increasing welfare payments permanently to similar levels would go a long way to reducing poverty in Australia.
We need to stop blaming the poor for their poverty. Poverty is not just caused by laziness or mindless expenditure but often by physical and mental health issues, relationship breakdown, domestic violence, disability etc. It's not difficult to become poor. It's often just a matter of luck and/or the result of unplanned and unexpected life events.
We know that children who remain in poverty for prolonged periods suffer long term developmental issues. These negatively impact on their whole of life opportunities. It often results in health and behavioural difficulties. It's estimated that not intervening early in children's lives costs Australia $15.2 billion per year. We could spend much less and achieve much more by relieving poverty and supporting families.
But it's not just about dollars and cents. There's a moral aspect to all this. For when is it ok to leave a child in poverty? A society that values its children would not knowingly allow them to suffer the negative life consequences of living in poverty. And yet, this is what happens daily in our communities.
We know that when our leaders and decision makers believe that something is important, they will act swiftly and decisively.  So, what about poverty? Why isn't it important enough for our leadership to respond to what we all know causes enormous harm?  Poverty is not a gordian knot. It can be resolved by spending the money necessary, like with defence, to do what it takes to protect Australians. It only takes community belief and political will to achieve it.
How can we reduce poverty?
It is difficult to argue that Australia doesn't have the financial means given our position as the richest nation on the planet (based on median adult wealth per capita).
Our Gross Domestic Product (GDP) in 2017 was estimated at A$1.69 trillion. In the same year our economy was ranked by the World Bank as the 13th largest national economy.
Child poverty in Australia isn't inevitable. There are solutions. The outcomes achieved in 2020 by increasing income support in response to COVID-19 is a great example; government demonstrated it is possible to act quickly to ensure the wellbeing of its citizens if there is sufficient urgency. This example also tells us that increasing income support for those who need it results in less poverty. 
We can learn from our neighbours in New Zealand who have prioritised the elimination of child poverty as evidenced by the introduction of a Child Poverty Reduction Bill and implementation of a budgeted Child Wellbeing Strategy.
If there are solutions to child poverty and we can afford to implement them why does child poverty still exist in Australia?
Because our ability to reduce child poverty doesn't just boil down to dollars and cents. Reducing child poverty can only be achieved when there is a shift in societal attitudes and the perception of poverty. Until we come together as a society and collectively agree that we no longer tolerate child poverty it will continue to exist. 
Why?
Because policies and programs are informed by adult attitudes: to shift child poverty we must prioritise this as an urgent issue. 
Children living in poverty are relying on a societal shift that sees them prioritised as valued citizens.  Their health and future depend on it. Every child, no matter which postcode they are born into, should be given the opportunities and supports they need to flourish.  It's not right and it's not fair to turn our backs on children growing up in poverty.
Professor Helen Milroy expressed this well when she said: "Children do not have a choice regarding the circumstances they are born into, nor some of the early life experiences they are exposed to.
"Often these cycles of poverty, trauma and disadvantage are generational. Each time we fail to provide the support and opportunities necessary for healthy development in one generation, we are just creating a cumulative impact for the next generation of children to experience.
"Ensuring the safety and wellbeing of our children is everyone's business and should not be dependent on who they are, where they come from, where they live, nor what we think of their parents."