Preventing child sexual abuse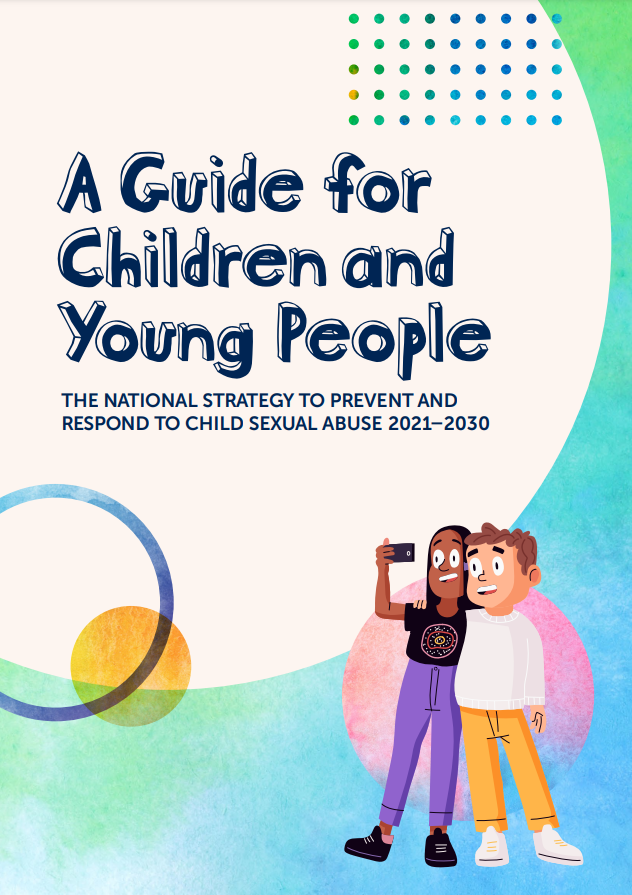 A guide for children and young people on the National Strategy to prevent child sexual abuse
This guide has been designed to help children and young people understand child sexual abuse, how and where to get help, and how the National Strategy is improving Australia's response to child sexual abuse.
The development of the National Strategy was a key recommendation of the Royal Commission into Institutional Responses to Child Sexual Abuse.
The National Strategy is a 10-year framework to help all state and territory governments to respond in a consistent and coordinated way to prevent and better respond to child sexual abuse.
The rights of a child
Child sexual abuse can happen anywhere: online, in families, and during activities like sports and music lessons. Children can be abused in places they visit regularly, including at church, school or community group.
Sometimes, someone who is a stranger will abuse a child. But most of the time, sexual abuse will be done by someone a child knows and may trust. This could be a family member, neighbour or family friend. Sometimes, the abuse will be done by another child
Children have a right to safety and a sense of wellbeing regardless of ages, gender, culture, religion, sexual identity, education level or geographical location.
It is important children understand their rights, know how to verbalise their rights and know how to get help.
It is never a child's fault if they are sexually abused. But there are things we can teach our children to help keep them safe.
*This guide is recommended for children aged 9 years and up.