Successful co-parenting after separation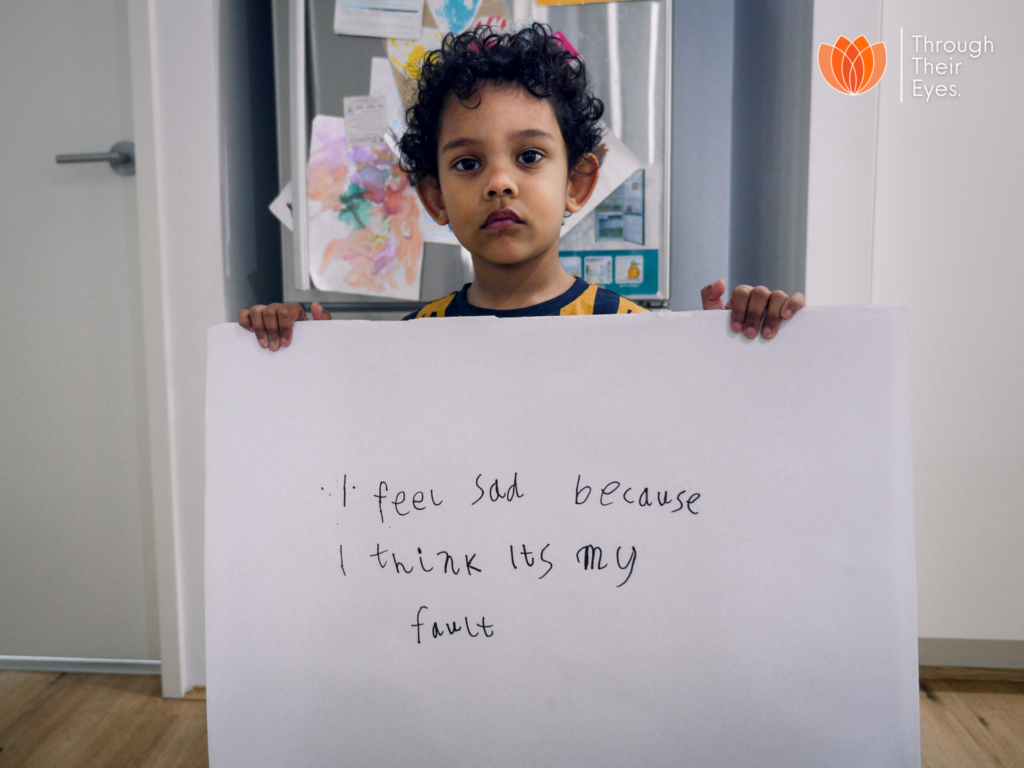 Successful co-parenting after separation: why listening to child
ren is key
"I feel sad because I think it's my fault."
These are the heartbreaking words of five-year-old Jonah whose parents divorced recently. Like the 50,000 plus children whose parents separate each year in Australia[1], Jonah is trying to make sense of the changes in his life. The separation of his parents represents a seismic shift for the 5-year-old and, like a lot of kids, he blames himself for his parents' separation. Maya (12) is also struggling to come to terms with the aftermath of her parents' separation. She's angry with her mother for 'giving up' the family home. Meanwhile, Lucy (5) wants her parents to know that she loves them both; she wants to spend time with them together, like they used to.
Of course, Jonah's parents don't blame him for their divorce. Maya's mum sold the family home because she couldn't afford the mortgage as a single parent and Lucy's parents are following the rules of a shared custody arrangement formalised in the Family Court. There are usually sensible adult reasons for separation and the decisions that parents make after it's occurred. Because of this, it's often surprising for parents to hear these types of statements from their children: they forget that their child's understanding of the world is different to their own understanding.
Providing parents can successfully resolve conflict and model healthy relationship norms to their children, there's no question that kids do best when families remain intact. But this is not always possible. In Australia, 47.1 per cent of separations involve children under the age of 18. Parental separation is much less stigmatised than it used to be, and this is a good thing. The logic of staying in a relationship 'for the sake of the kids' is recognised as flawed by most people these days. Afterall, kids learn about relationships – what to expect, what's acceptable and what's not – from their parents. There's nothing healthy about staying in an unhealthy relationship and sometimes it's necessary for relationships to end. Any adult whose parents separated when they were a child will tell you that parental separation is hard on kids. Having said that, it's worth noting that most children adjust well to parental separation, at least in the long run. A minority of children have long-term problems that can affect them into adulthood. But it's the conflict between separated parents- not the separation itself- that account for most of the problems children experience[2].
It's fair to say that most parents who are in the midst of separation are doing the best that they can in difficult circumstances- but there is no question that it's an extremely challenging life experience. Even if the end of a relationship is planned and agreed upon, the reality of adjusting to a new normal while dealing with feelings of profound grief, loss, and hurt hits hard. In fact, according to the Holmes-Rahe Stress Scale[3]divorce/separation is the second most stressful common life experience, second only to the death of a spouse. When kids are involved, the stress is compounded.
Given the stress involved, it's not surprising that conflict occurs, or that many separated parents struggle to think about things from a perspective other than their own. Unfortunately, what this means is that sometimes the most important voices- the voices of children- get lost. All parents love their children, and most parents believe they are acting in the best interests of their children so when children's voices are missed it's not because there is a lack of love. It probably happens because parents are doing what they need to do to survive the emotional upheaval of separation, to cope with their own pain.
Providing parents with non-judgmental support through their experience of separation is crucial. This includes helping parents to see the world from their child's perspective. Children themselves tell us that they want to be included more and given more information. A 2018 study by the Australian Institute of Family Studies found 76 per cent of children wanted their parents to listen to their views more when working out their living arrangements. They also said they weren't given enough information about what was going on or about the legal process.[4]
When children impacted by parental separation are given the opportunity to voice their feelings and views to their parents most parents are very receptive. While it might not always be possible for parents to give children exactly what they want post separation, acknowledging their experience and feelings can make a big difference. Taking the time to ask a child what they think and how they feel tells the child that they are important, that their experience matters. Acknowledging a child's unique experience helps them to adjust to the changes in family life.
There's another benefit of seeking and acknowledging the voices of children. Parents who can see things from their child's point of view are less likely to prolong conflict with their ex. Why? Because they are more attuned to their child's experience and therefore better able to recognise the harm that conflict causes their child. With such a mindset, the prospect of peaceful co-parenting is suddenly more achievable and desirable; the views and needs of children more likely to be considered.
Separation is almost always difficult, but successful co-parenting is possible. Gently and compassionately supporting parents to understand and acknowledge the experiences of their children can be the key that unlocks peaceful and successful co-parenting after separation.
*The quotes used in this article and in the 'Through Their Eyes' video are made by real children. To protect their identities, we have used child actors and changed their names.
If you or someone you know is going through separation/divorce there are services available to help:
---
[1] Marriages and Divorces, Australia, 2020 | Australian Bureau of Statistics (abs.gov.au)
[2] How will my divorce affect my kids? – Faculty of Health and Behavioural Sciences – University of Queensland (uq.edu.au)
[3] Holmes- Rahe Stress Inventory – The American Institute of Stress
[4] Children and young people in separated families: Family law system experiences and needs: Final Report 2018 | Australian Institute of Family Studies (aifs.gov.au)